About BNI
The World's Largest Referral Organisation
BNI is a world-wide organization in which chapters of business people meet weekly to exchange referrals and testimonials, and to learn more about each other's businesses.
BNI Dundalk, promotes your business to and through a network of people. There are up to 20 people in our chapter.
You are welcome to come along as a visitor for the first 2 weeks and we would then ask that you make the decision to become a member. Belonging to BNI is like having dozens of sales people working for you because all the other members carry several copies of your business cards around with them. When they meet someone new who could use your products or service, they hand your card out and recommend your services. It's as simple as that! It's simple because it's based on the proven concept of what goes around, comes around. If I help you, you'll help me and we will both benefit as a result.
Personal Benefits of the 60 Second Speech.
At the heart of the BNI meeting is the "60 Second Speech" slot. This is each member's opportunity to tell everyone at the meeting all about their business, the kind of leads they are looking for, and anything at all that will help the other members generate business for them.
60 seconds may seem to be the briefest of speeches, but BNI have developed a system to harness the power of this format, and regularly organise free training workshops to allow the members to develop their presentations, introducing techniques such as the memory hook, and effective ways to ensure that the message is remembered.
This system has immense practical benefits outside BNI, where in in real-life networking situations, the BNI member is trained to be able to give an instant and concise account of what they do.
View a list of Current Irish Members»
What makes a Great "Power Team"?
One of the secrets of creating a powerful chapter in Dundalk, is to use a BNI strategy called POWER TEAMS. A Power Team is a group of related professions that work with the same clients but do not take business away from each other.
In a successful BNI Chapter you will find 6 or more Power Teams with at least 7 members per team - making a total chapter size of over 20 members. In this environment, members will find 67% of their referrals come from their own Power Team and the other 33% of their referrals come from the rest of the chapter. You could find yourself in more than one Power Team - but the most important thing is to surround yourself with members who talk regularly to the type of clients that YOU want!
Are you missing out on 67% of the business you should be getting?
Who should be in a Power Team?
The following lists are examples of professional categories that fit the Power Team profile. It is important to note that some professions will be in more than one Power Team and that there could be more professional categories and Power Teams than are listed here: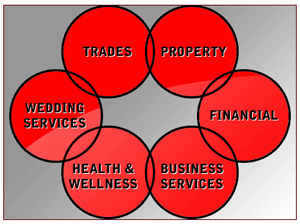 Financial

Accountant
Banker
General Insurance
IFA
Investments
Solicitor
Stock Broker
Health & Wellness

Aromatherapy
Dentist
Fitness Trainer
Health & Beauty
Health Insurance
Hypnotherapy
Life Coach
Massage
Property

Alarms / Security
Architect
Cleaning
curtains / Blinds
Estate Agent
Locksmith
Loss Assessor
Mortgages
Removals
Surveyor
Trades

Automotive Services
Builder / Building Services
Car Body Shop
Electrician
Flooring
Gardening Services
Joiner
Painter / Decorator
Plumber
Windows
Wedding Services

Caterer / Cakes
Event Management
Florist
Formal Wear
Gift Baskets
Limo Service
Joiner
Limosuine Hire / Chauffeur
Photographer
Travel Agent
Business Services

Computer Repairs
Graphic Design
Health & Safety Consultant
HR Consultant
I.T.
Management Consultant
Office Supplies / Products
Printing / Advertising
Promotional Products
Recruitment
Signs
Telecoms / Utilities
Virtual Office
Websites / Internet